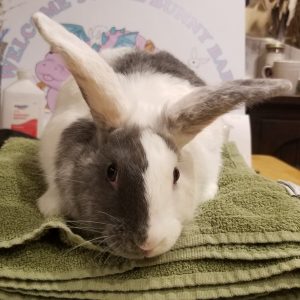 Scheiwe's SR12  is 4 months old, now "Harvey" , He is a  Jr Blue  Magpie Buck from Bloomington IN. His sister just won  the Harlequin Specialty  Nations as Best Jr Doe.  He is a little nervous right now but he has a condo to settle into and I'm going to let him chill for a few days to get more acclimated. I'll be breeding him to Nougat in a few months .  He is my first Blue rabbit. So looking forward to see what color combinations we  will get and hope he will improve patterning on the new magpie line.   Although my main goal is going to be trying to improve Harlequin body type.
 I also have been re-evaluating my New Zealand's , and I am in the market for some Very deep/high Reds, I have plenty of width and great growth rates, with a 4.5 to 5lb average by 8 weeks .   I am looking for shorter shoulder, and deeper higher arches for my reds and whites.  So if you have rabbit with excellent depth but maybe not width that you'd like to trade for some very wide rabbits  I am interested. 
 Other things I am learning when meeting  new breeder in my area and is a lot of people are interested in the basic color genetics but don't know where to start I may add my own walk through with examples for basic break down and ya'll can learn with me as I start researching more on the secondary  more complex color genes and hopefully other  traits. But I'm going to start with doing the color probabilities of the Nougat / Harvey Pairing , and reviewing past pairing on a case by case basis. 
 Other things that have happened becuse my PC died on me for a few weeks so now I am behind on posting buns for sale .
 Please check out the sale page here: FOR SALE   to see current and upcoming litter availability .